One of the most important features of a live chat system is being able to look at your chat history and respond to offline and missed chat requests.
We've been redeveloping these sections of the administration section and both the web and desktop chat agents to be more user friendly and efficient to use.
Before – Missed Chat Request
Our old layout in the administration section lacked definition between chat requests, lacked functionality in contacting visitors and displayed information in an inefficient manner, putting too much focus on the visitor's information rather than the topic/question they asked.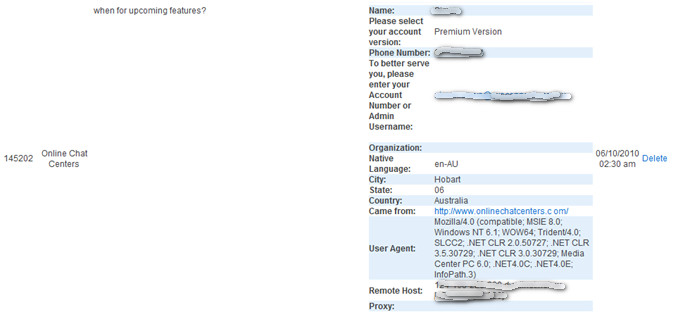 After – Missed Requests, Offline Messages and Chat History
The old menu lacked other essentials – mainly, the ability to email chat request visitors and the offline messages were not viewable at all. Although accessible through the chat agents and sent via email, a central location for all missed requests in the dashboard was needed.
The redesign of this section can be seen below:

The chat request information was all neatly condensed for easy browsing, with all 3 sections listed in a similar fashion. The request information is no longer so large, showing only critical information about the chat request with the full information regarding the visitor accessible by clicking the "View All Request Information" link.
In addition, we've listed 3 actions to take with the request – email the visitor, mark the request as processed and delete it completely from your history.
Emailing the visitor will automatically populate the message with all the request information in your default mail client software: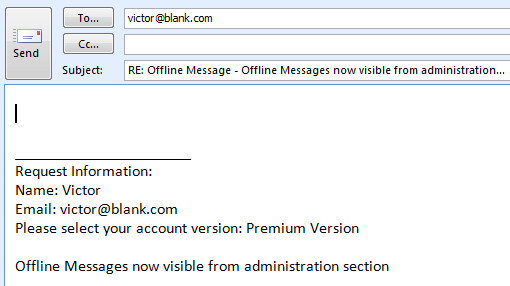 We've also added a new filtering option for our users with multiple departments or websites and search functionality within the Offline Message and Missed Requests section:
All the design changes have also been implemented in the web and desktop chat agents, easily accessible from whatever location you are monitoring your site from!