We have just released new OCC Agents for Windows and web. Mac update coming soon!
What's New
The new update includes the following new features:
1. Supervisors – Ability to close chats without ending them
2. Supervisors – Ability to send message to just the operator or the whole chat
3. New data in visitor info
4. New icons for visitor info
5. Minor bug fixes
Supervisors – Close Chat & Messaging
Supervisors monitoring a chat can now only close chats and not end them. They can also send messages to either both the visitor and the operator or just the operator.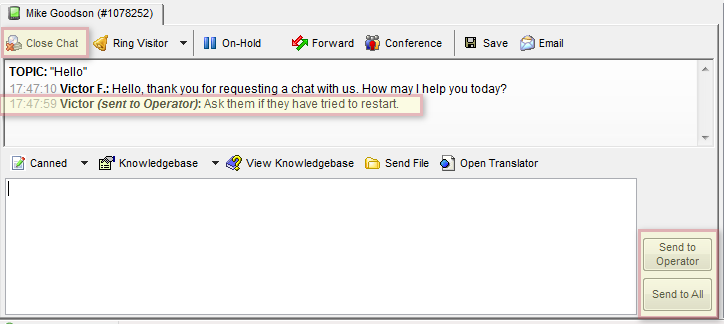 Visitor Info Changes
These visitor info changes were released on all OCC Agents prior to this announcement but now the columns are customizable through the View drop down menu.
We added more information about each visitor including:
Traffic source
Search keyword
Landing page
We also added icons for country, system, traffic source and browser.



Minor bug fixes
Fixed the hidden status being unavailable to operators that do not have it enabled in the Account Dashboard.