Since the launch of the new OCC website, we've been working on more complete and clear control of your operators and departments for Premium accounts.
To illustrate, we'll show you a Premium Version account with 3 operators and 3 departments. Here's what the Account page would look like:

To manage the 3 operators, we click show below the operator icons to pop up the operator summary window showing expiration dates and renewal options: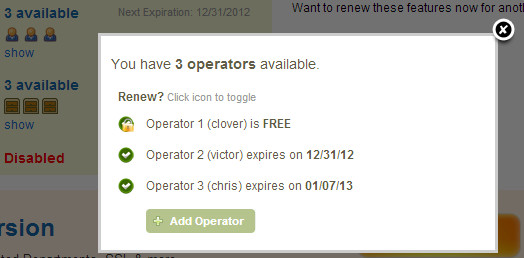 We can see the 3 operators and each of their expiration dates. Clicking the green checkmark next to the corresponding operator will toggle whether the operator will be renewed or not. The first operator in the list is the free operator included with your account and cannot be toggled.
Clicking Add Operator will add a new operator to your account. Below is an example of operator 3 (chris) being toggled to "do not renew" and another operator being added, along with the view of how an expired operator looks.
The new account management system is ideal for users with Automatic Payments enabled and users that are constantly adding or removing operators.
Once you select the features you want, hit the blue Renew button to renew the features for another year or set up Automatic Payments to be charged automatically.

…and finally, have a Happy Halloween!