You requested it…We've delivered it!
We are pleased to now offer the ability for the Admin of the OCC Account to assign certain user rights to each operator within the account.
This is primarily useful for Canned Messages, Knowledge-base Articles, etc.
Simply login to your Account Dashboard, proceed to Setup–>Operators and at the bottom you will see Dashboard Access with a checkbox.

Click that and you will have every Dashboard feature as a checkbox for enabling access to that selected operator.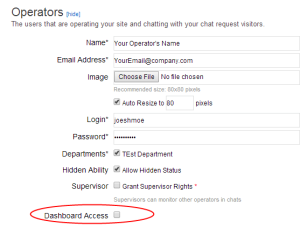 *BE SURE TO CLICK SAVE AT THE BOTTOM OF THE LIST.