OCC now allows you to fully customize the automated emails that are sent from the system, including:
Chat Transcripts
Chat Transcripts (that visitor sends)
Offline Messages
Missed Requests
Each can be customized per department and with different variables. All the email's basic information can be edited including:
Message
Subject
From Email
The Message and Subject fields can use the following variables, taken from the visitor's information and the chat:
%%username%% – chat name used by visitor
%%transcript%% – the complete chat transcript
%%topic%% – topic of the chat
%%department%% – department/website associated
%%visitorinfofull%% – visitor's full info
%%visitorinfobasic%% – visitor's basic info (does not include location and device info)

Here's how to use the Email Templates:
1. Login to the Account Dashboard
2. Go to Setup > Messages > Email Templates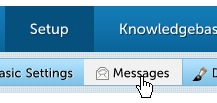 To edit an Email Template, select the Department/Website, then the template you wish to edit.
Change the fields using the fields and insert the variables in gray font in your desired locations within the subject line and message body. The subject line can be very long depending on the variables you insert, so we give you the option to cut off the email at a certain number of characters (start at 50 characters then test with your desired email client).
You can also define if the email comes from the department email (if you entered more than 1, the first email entered is used) or the visitor's email.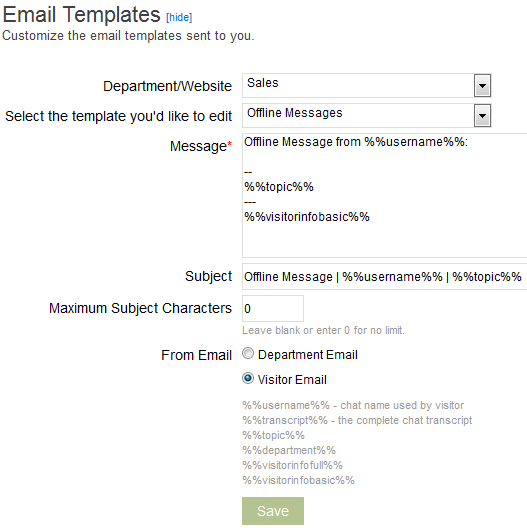 The Email Templates feature is available to all OCC Accounts: Free, Premium and Enterprise.
Tags: email templates, Features