This is a new feature for OCC Enterprise and our first feature released exclusively for Enterprise Accounts.
The URL masking feature is something that has been highly requested that allows you to create a white label live chat replacing the regular URL in the chat window from "onlinechatcenters.com" to "sub.yourdomain.com."
As an example, you can use "chat.johnsjelly.com" in your chat window if your website is John's Jelly with the web URL www.johnsjelly.com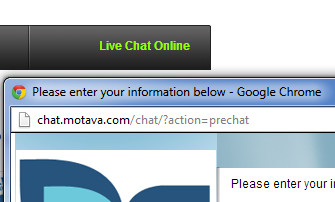 Here's how to use the URL masking feature:
Login to your Account Dashboard
Click Setup > Basic Settings > URL Masking
Select your department from the drop down menu. Enter your desired subdomain and URL in the Custom URL field. We recommend using chat.mydomain.com
**The change also required you to add a CNAME record for your domain name. Here is a URL Masking Knowledgebase article on how to do that, copied below:
You'll need to access your domain name provider and create a CNAME that points to OnlineChatCenters. Every domain provider has different sets of instructions to do this so here's the basics:
Log into the domain provider to whom you pay your domain name bill to. Common vendors are GoDaddy, Network Solutions, 1and1, etc.
Navigate to the DNS Management/Domain Management section and find your domain.
You'll need to edit the DNS records for this domain – sometimes this function is labeled as DNS Zone Editor, Configure DNS, Advanced DNS Settings or something else along these lines.
Add a new record with the type CNAME with the following:Hostname/Alias: chat (this can be anything but must match the custom URL entered in your Account Dashboard)
Value/Target: www.onlinechatcenters.com
Save your changes
Generally, the new DNS entry will be ready in a matter of minutes but it may take up to 48 hours to fully propagate.